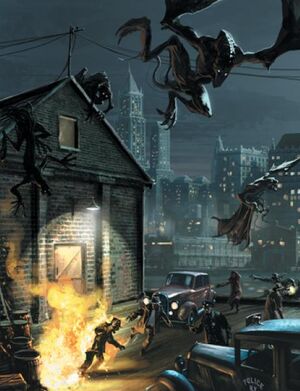 Arkham, also sometimes referred to as the "City of Arkham" is a fictional city in Massachusetts, part of the Lovecraft Country setting created by horror/sci-fi author and poet H. P. Lovecraft and is featured in many of his stories, as well as those of other Cthulhu Mythos writers.
Arkham House, a publishing company started by two of Lovecraft's correspondents, August Derleth and Donald Wandrei, takes its name from this city as a tribute. An insane asylum and its counterpart (along with the "prison city") in both the works of Lovecraft and the DC comics, were named after the Lovecraftian city itself also as tribute. Also a villain from the Devil May Cry videogame series took the name of the city as well.
Ad blocker interference detected!
Wikia is a free-to-use site that makes money from advertising. We have a modified experience for viewers using ad blockers

Wikia is not accessible if you've made further modifications. Remove the custom ad blocker rule(s) and the page will load as expected.