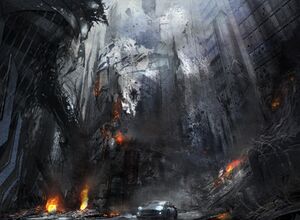 | | | |
| --- | --- | --- |
| " | No... I don't want your suffering, I don't want your future! | " |
| | ~ A young Charles Xavier in the year 1973 after reading Wolverine's mind and receives a glimpse of Earth's desolate future in X-Men: Days of Future Past. | |
The "Bad Future" is a very common theme in many varied media - especially science-fiction and comic-book fiction, it is also a popular topic amongst fans of "alternate history" and can be considered one of the many mutations of the post-apocalyptic and/or dystopian genre.
In a "Bad Future", a villain or antagonistic force outright wins, reshaping reality as they see fit - alternatively a world may undergo an apocalyptic event that causes a drastic (often negative) change in society and the creation of an environment hostile to most humanoid life.
A "Bad Future" is not the same as the similar concept of a "Mirror Universe" as it is usually an alternate-future rather than a parallel-universe - having existed much like the "mainstream" world until a certain point in history, after which it changes dramatically.
Famous examples of "Bad Futures" are scenarios in which extremely maligned historical figures such as Adolf Hitler or Stalin managed to succeed in their unlawful conquests - though even in these "Bad Futures", it is often common for a small group of freedom-fighters to exist and fight against the tyrant or the regime.
"Bad Futures" can also happen in video games such as Sonic CD if the hero loses or if the hero does certain events to ensure a bad ending.
Famous/Imfamous Bad Futures
External Links
Ad blocker interference detected!
Wikia is a free-to-use site that makes money from advertising. We have a modified experience for viewers using ad blockers

Wikia is not accessible if you've made further modifications. Remove the custom ad blocker rule(s) and the page will load as expected.