This article's content is marked as Mature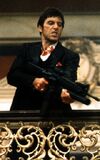 The page Blame Canada contains mature content that may include coarse language, sexual references, and/or graphic violent images which may be disturbing to some. Mature pages are recommended for those who are 18 years of age and older.
If you are 18 years or older or are comfortable with graphic material, you are free to view this page. Otherwise, you should close this page and
view another page
.
"Blame Canada" is a villain song sung by Sheila Broflovski, the parents and the town of South Park in the film South Park: Bigger, Longer & Uncut. The song marked the formation of Mothers Against Canada (M.A.C.), the organization that would ultimately spark the American-Canadian War. The song blamed the nation of Canada for the production of Terrance and Phillip: Asses of Fire, a film which they held responsible for corrupting America's youth. The song was reprised in the film's medley..
Lyrics
Sheila:

Times have changed,

Our kids are getting worse!

They won't obey their parents,

They just want to fart and curse!


Sharon:

Should we blame the government?


Liane:

Or blame society?


Randy, Gerald and Stuart:

Or should we blame the images on TV?

Sheila:

No, blame Canada!

Everyone:

Blame Canada!

Sheila':

With all their beady little eyes,

And flapping heads so full of lies!

Everyone:

Blame Canada!

Blame Canada!


Sheila:

We need to form a full assault!

Everyone:

It's Canada's fault!


Sharon:

Don't blame me,

For my son Stan,

He saw the darn cartoon,

And now he's off to join the Klan!


Liane:

And my boy Eric once,

Had my picture on his shelf,

But now when I see him he tells me to f--k myself!


Sheila:

Well, blame Canada!


Everyone:

Blame Canada!


Sheila:

It seems that everything's gone wrong,

Since Canada came along!


Everyone:

Blame Canada!

Blame Canada!

Copy Shack Employee:

They're not even a real country anyway!


Mrs. McCormick:

My son could've been a doctor or a lawyer it's a true,

Instead he burned up like a piggy on the barbecue!


Everyone:

Should we blame the matches?

Should we blame the fire?

Or the doctors who allowed him to expire?

Sheila:

Heck no!


Everyone:

Blame Canada!

Blame Canada!


Sheila:
With all their hockey hullabaloo,


Liane:

And that bitch Anne Murray too!


Everyone:

Blame Canada!

Shame on Canada!

For...

The smut we must stop,

The trash we must bash,

The laughter and fun,

Must all be undone,

We must blame them and cause a fuss,

Before somebody thinks of blaming us!
Video
Ad blocker interference detected!
Wikia is a free-to-use site that makes money from advertising. We have a modified experience for viewers using ad blockers

Wikia is not accessible if you've made further modifications. Remove the custom ad blocker rule(s) and the page will load as expected.