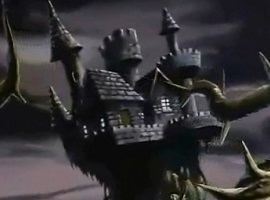 The Castle Revolta is a creepy castle home to the wicked witch Revolta, the main antagonist of Scooby Doo and the Ghoul School.
History
Revolta resides in her own namesake Castle, ever plotting and scheming not only to achieve her goal of world domination, but her main desire to be the world's greatest monster that ever lived.
Revolta has found that opportunity when she kidnapped the girls from Miss Grimwood's Finishing School for Ghouls and held them at her castle, and tried to turn them evil with a spell.
Eventually the castle was destroyed in a potion explosion, killing Revolta and her minions.
Ad blocker interference detected!
Wikia is a free-to-use site that makes money from advertising. We have a modified experience for viewers using ad blockers

Wikia is not accessible if you've made further modifications. Remove the custom ad blocker rule(s) and the page will load as expected.