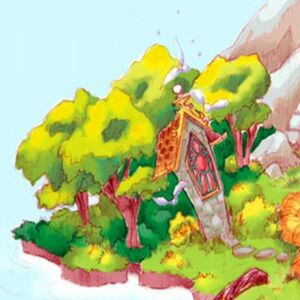 The Chateau Ripto, named after the wicked wizard Ripto, is his own "chateau" (in French: "mansion") which also serves as his own secret lair as well as his own home.
Chateau Ripto has first appeared in Spyro: Enter the Dragonfly, in which Ripto had a throne in the center of the room.
In Spyro: Attack of the Rhynocs, the Chateau is finally revealed completely and shown on the world map before Spyro infiltrated the chateau and finally face Ripto. On each side of the same room there are statues that control lightning, fire and ice. These statues can be activated by Ripto's magic and used as a trap that he has made for his enemies who would dare invade his house and trepass his property. After Spyro have defeated him, he drops a Heart item in his throne room.
Gallery
Trivia
Also, in Season of Flame, Ripto is in a factory-like region within his secret volcano lair and conjures a deck of magic cards with each respective color-based elements to protect himself.
Ad blocker interference detected!
Wikia is a free-to-use site that makes money from advertising. We have a modified experience for viewers using ad blockers

Wikia is not accessible if you've made further modifications. Remove the custom ad blocker rule(s) and the page will load as expected.