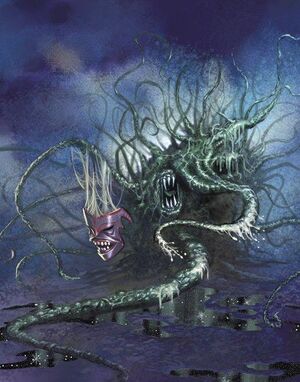 | | | |
| --- | --- | --- |
| " | I'm what's left or... maybe I'm all there ever was. | " |
| | ~ Xemnas to Roxas. | |
The Elder Beings are a common archetype found in fiction and folklore regarding villains. Often, they are the survivors of an ancient race that existed prior to the current ruling class of deities or mortals. Normally embodying the dark and chaotic forces of pre-civilized society, Elder Beings are feared and demonized as agents of anarchy and ruin, often warring with gods and mortals. A common trait of Elder Beings is that they are imprisoned in some fashion, awaiting the day they can be unleashed upon the world again.
The concept of Elder Beings dates back at least to the Titans of Greek mythology. The Titans were a race of primordial giants who warred with the Olympians and ultimately lost. Many of the Titans were sent to Tartarus while others met more gruesome fates (such as Atlas having to hold the sky or the world on his back).
The works of H.P. Lovecraft popularized the idea of malevolent Elder Beings known as the "Great Old Ones" (with Cthulhu becoming his most famous example), though despite popular belief, Lovecraft's work is purely fictional and is not actually based on real-world mythology.
The pagan religions of ancient Ireland and Scotland believed in an Elder Race known as the Fomor, horrible and malevolent ogres who lived in the sea and fought with the Celtic gods for possession of Ireland (and possibly the world).
Even in the Christian Bible, there are tales of ancient beings, though none of them can out-date the all-powerful God of Abrahamic religion. Beings such as the Behemoth, Leviathan, and Ziz can be seen as the closest the Bible has to Elder Beings, as they often embody the chaos that existed before God (in some texts) made the world (it may also symbolize Christianity's conquest of what were seen as barbaric pagan-religions at the time).
Examples of Elder Beings in Fiction
Examples of Elder Beings in Folklore
Gallery
NOTE: The limit is for 20 pictures only
Ad blocker interference detected!
Wikia is a free-to-use site that makes money from advertising. We have a modified experience for viewers using ad blockers

Wikia is not accessible if you've made further modifications. Remove the custom ad blocker rule(s) and the page will load as expected.