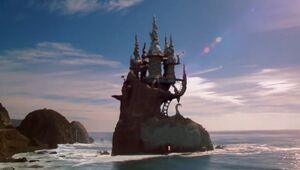 Fegan Floop's Castle, also known as Floop's Castle, is designed and owned by Fegan Floop, titular host of children's TV show "Floop's Fooglies", and a location in the first Spy Kids movie.
It is a twisted, yet, seemingly cheerful castle-like building built on a offshore isle and it is based on Floop's wildiest and childish imaginations. The castle is where the Virtual Room is located.
Gallery
Trivia
Floop's Castle is a parody of Princess Peach's Castle from the Super Mario Bros. videogame series.
Ad blocker interference detected!
Wikia is a free-to-use site that makes money from advertising. We have a modified experience for viewers using ad blockers

Wikia is not accessible if you've made further modifications. Remove the custom ad blocker rule(s) and the page will load as expected.