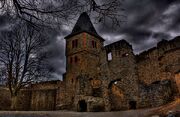 The Frankenstein Castle is a hilltop castle home to the mad scientist Dr. Victor Frankenstein who created his legendary monster called Frankenstein in this place, and an eponymous location in the 1818 Gothic novel Frankenstein by Mary Shelly. It is also called "Frankenstein's Castle".
Gallery
Trivia
The castle was named after the real-life Frankenstein Castle which serves as the inspiration for the novel Frankenstein.
Ad blocker interference detected!
Wikia is a free-to-use site that makes money from advertising. We have a modified experience for viewers using ad blockers

Wikia is not accessible if you've made further modifications. Remove the custom ad blocker rule(s) and the page will load as expected.