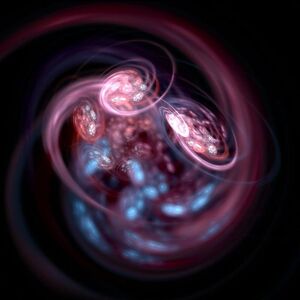 "
" if one ever looks into a mirror one notices the reflection looks almost identical, however if you take writing it becomes.. backward.. now imagine a universe where everything looked the same but morals and society became like that writing.. backward.. twisted.. perhaps even evil.. then you have a Mirror Universe... "

~  ?

"
The Mirror Universe is a common plot device in fantasy, horror and sci-fi which takes the idea of parallel-realities and mixes it with dark fiction to create dystopias in which the traditionally "good" portions of a series are replaced by "evil" or "corrupt" versions.
Like many concepts the Mirror Universe is a source of parody due to it being used so often and some authors do not like utilizing it as they feel it has become dated - regardless of this criticism it remains very popular and many large franchises have at least on "Mirror Universe".
Unlike "Bad Futures", most Mirror Universes are implied to have evolved alongside the mainstream universe rather than splitting away at a certain point in history, though exceptions exist.
Perhaps the most famous example of the name "Mirror Universe" comes from Star Trek, which also popularized the image of evil "twins" having beards (which was parodied mercilessly by varied media afterwards).
Ancient Legends and Popular Culture
Despite the concept being associated with science fiction the idea of a Mirror Universe is very, very ancient and many cultures believed mirrors held "hidden" worlds within them - numerous superstitions surround mirrors and reflections, some of which deal with the concept of what modern writers would think of as "parallel universes" (explained via ancient minds as "magic" or "spirit worlds").
Ad blocker interference detected!
Wikia is a free-to-use site that makes money from advertising. We have a modified experience for viewers using ad blockers

Wikia is not accessible if you've made further modifications. Remove the custom ad blocker rule(s) and the page will load as expected.