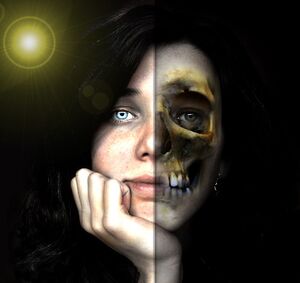 Not Always Nice is the opposite of both Beware the Nice Ones and Not All Bad. In a lot of stories, the villain/villainess is quite presented as a Nice One to the heroes/heroines. But at some moment, they reveal his/her true nature by betraying the protagonists and revealing his/her negative intentions. The evildoer can even prove to the audience in the story that looks can truly be deceiving. Any villain, who acted as nice one, have ways to gain trust in the hero/heroine for their own purposes.
Sometimes it may happen that the hero can become a villain.
There are a few reasons these people may act like this:
They may want to be selfish and arrogant or just unbiased to either side, but their morality keeps on getting in the way, even if it is to their detriment. They may put on a rude façade to try to counter it.
They do consider themselves as better than everyone else, and their attitudes range from highly smug to insufferably intelligent to hubristic. After all, it is difficult for them to be nice to people when they do not even respect them. However, they still feel compelled to help these lower creatures on a regular basis.
They are natural loners. Their senses of duty force them to perform heroic acts, but they do not consider chitchat or politeness to be parts of their obligations.
They may want to be affable people, but they believe that being nice does not always get things done, and that accomplishing good requires them to do harsh and cruel acts, particularly if they have to teach something. (This may be an intermittent effect, applied only when necessary; contrast "Beware the Nice One"s, where such outbursts result from break-down. On the other hand, emotional trauma can coincide with the realization that nicety won't cut it.)
They cannot afford to let others get close to them because their enemies will use others against them.
They might wish to be nice but live so far outside normal human experience that they have no idea how to go about it; similarly, the hero might be autistic, or a non-human alien.
The world the heroes live in is operated through cynical ends, so the "strict good guy" routine does not work - either in the eyes of the author or in a literal in-universe sense.
They intimidate enemies through harsh demeanors.
Examples
Movies
Disney/Pixar
Anakin Skywalker : at first he was a Jedi Knight fighting on the Light side of the force, but by Emperor Paplatine joned to Dark Side of the Force and he become Dark Lord of Sith named Darth Vader.
Will Teasle: first appearing as a well respected and kind sheriff, Teasle eventually shows his true nature when he arrests John Rambo for no vagrancy (even though he was innocent) and lets his deputies abuse him to his breaking point which nearly leads to the destruction of the town.
Sloan and Bree Blackburn: Initially posed themselves toward Eliza Thornberry to be friendly, warm and kind-hearted couple of animal-loving zoologists, before later revealing themselves to actually be the ruthless poachers who kidnapped the cheetah cub Eliza tried to save, and also plan to kill a herd of elephants with an electric fence.
Varian: Initially a nice, friendly, and helpful ally to Princess Rapunzel and her friends, but later reveals his true vengeance-seeking colors to Rapunzel betraying her.
Obadiah Stane (Marvel Cinematic Universe): Initially was at first nice to Tony Stark, but later reveals his true nature where he actually wanted to always in control over Stark Industries.
Stromboli: Initially was at first nice to Pinocchio, but quickly reveals his true nature as a greedy man by locking him in a cage and intending to later destroy Pinocchio in fire after he is no longer useful.
Edgar Balthazar: Initially was very loyal and friendly to Madame Bon Famile but after hearing that her cats get her fortune, he decides to get rid of them so he can have the fortune for himself.
Happy Chapman: While this TV pet show host may look like he lives up to his name, in reality, he is an arrogant, selfish, and greedy jerk who abuses his assistant Wendell, and is not satisfied with his job as a TV pet show host. His original star pupil was a famous cat named Persnikkity, whom he grew tired of due to his allergies and then puts Persnikkity in the city pound. Chapman wants a dog to star in his show so he can overshadow his more successful news anchor brother Walter in fame. So he steals Odie for his own gain and then uses a dreaded shock collar on him, and even laughs at the dog's pain from the powerful jolts.
Darla Dimple: Initially appears as a sweet little girl who loves animals, but reveals herself to be a complete egomaniacal, psychopath, and rotten to the core spoiled brat who wants the spotlight to herself and is afraid Danny and his animal gang will ruin it and is determined to stop them at all costs.
Moo Nieu: Briefly appears as an innocent cow who is eating grass, but reveals himself as Betty's protector when he notices the Chosen One.
Boingo: For the most part, acts like the cute little bunny he appears to be towards Red, Granny, Wolf, Kirk, and Twitchy, but later reveals himself to actually be the evil Goody Bandit (however, Wolf and Twitchy already were skeptical about Boingo).
Tobias Beckett: Like Boingo, he acts like a friendly, wise and helpful mentor to be towards Han Solo, but later reveals himself to actually be greedy, egotistical and manipulative cheater who was tries to profit from unsold Coaxium and transport it to many different gangs.
Cecil Fredericks, Gus and Reginald: These elderly security guards at the American Museum of Natural History. Initially acted kind towards Larry Daley, but later reveal themselves to be after the stealing the tablet of Amuk Munrah and other valuable objects, wishing to retain their health and fund their retirements, the three plan to frame Larry for the real thefts and disabled the tablet to stop the exhibits from interfering.
Eric Knox: Tricked Charlie's Angels into believing he was an innocent, but then revealed his true colors and plotted to kill Charlie.
Cartoons
Others