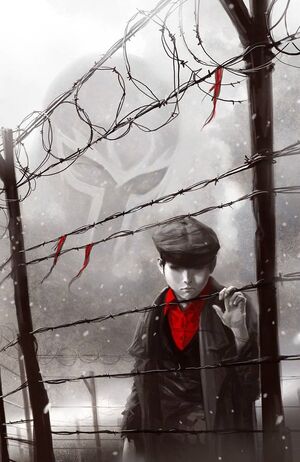 Much like how ordinary good guys eventually became heroes, villains themselves also have an Origin Story of how they eventually become the villains that the heroes ultimately face later on. This is called the Start of Darkness.
In order to keep their characters current, various media companies frequently rewrite the origins of their oldest characters; this goes from adding details that do not contradict earlier facts to a totally new origin which makes it seem that it is an altogether different character.
"Origin story", or pourquoi story, is also a term used in mythology. It can refer to narratives of how the world began, how creatures and plants came into existence, and why certain things in the cosmos have certain qualities.
How the characters eventually became the very villain that everyone known to the day were varies, though some cases tend to be related with Mad Science.
Variations of Origin Story Scenarios
Each villains had various scenarios regarding how they went to the dark side, which includes:
Noteworthy Examples
Anime and Manga
Comic Books
Films
Animated
Live-Action
Literature
Live-Action TV
Videogames
Web Series
Western Animation
Quotes
| | | |
| --- | --- | --- |
| " | Long ago, in ancient China, the Peacocks ruled over Gongmen city. They brought great joy and prosperity to the city for they have invented fireworks. But their son, Lord Shen, saw a darker power in the fireworks. What had brought color and joy could also bring darkness and destruction. Shen's troubled parents consulted a Soothsayer. She foretold that if Shen continued down this dark path, he would be defeated by a warrior of black and white. The young lord set out to change his fate. But what he did next only sealed it. Shen returned to his parents full of pride. But in their faces, he saw only horror. He was banished from the city forever. But Shen swore revenge. Someday, he would return, and all of China would bow at his feet. | " |
| | ~ The Soothsayer's opening narration of Lord Shen's backstory. He became disturbingly obsessed with fireworks as he saw they could also be used in warfare. His concerned parents consulted the Soothsayer who foretells Shen's destined downfall at the hands of "a warrior of black and white." Shen overhears this prophecy and decides to avert it by massacring a nearby village of innocent pandas. Shen's parents, horrified that their son would do such a wicked deed, banished him from the city as punishment. Shen, believing his parents wronged and hated him, vows revenge that he will return to Gongmen one day. | |
Gallery
Videos
See Also
Ad blocker interference detected!
Wikia is a free-to-use site that makes money from advertising. We have a modified experience for viewers using ad blockers

Wikia is not accessible if you've made further modifications. Remove the custom ad blocker rule(s) and the page will load as expected.