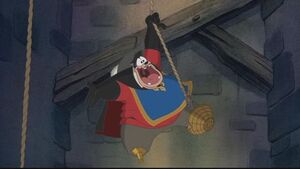 "Petey's King of France" is the villain song in Mickey, Donald and Goofy: The Three Musketeers. It is sung by Pete who plans to dominate France is working and has a large chance of succeeding.
Lyrics
Pete: I was born to cheat and lie
I'm a mean rotten guy
When you ask me why I'm nasty, here's my reason why
At that stork delivery mommy screamed

(Pete's Mother Impression): Woe is me, such a dork.
Hey, Mr. Stork
Behold my misery
Pete is ghastly, Pete's a blob, Pete's a nasty naughty slob

Pete (normal voice): Can it sister, I'm the mister who will get the job
So I'm nasty I'm no good
I'll be king, knock on wood
I'll impress ya, though I'm just a common lowly hood ha!

If you can't be loved be feared
Don't get shoved, sheep get smeared
Be the king pull the string
Or else you might get speared

I'm so happy I could dance, seize my chance, I'll advance
Come and cheer me, love and fear me,
Pete is King of France

Come and cheer me, love and fear me
Pete is King of France

(Er, why'd the music stop?)
Ad blocker interference detected!
Wikia is a free-to-use site that makes money from advertising. We have a modified experience for viewers using ad blockers

Wikia is not accessible if you've made further modifications. Remove the custom ad blocker rule(s) and the page will load as expected.