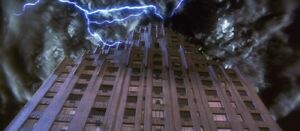 "Psychokinetic Atmospheric Influence" (sometimes known as "P.A.I." for short) is the supernatural phenomena in the Ghostbusters universe that is a result of paranormal activity so intense and concentrated that it begins to have affecting changes on Earth's weather patterns and electromagnetic fields (involving fierce winds and oddly colored clouds). This is usually caused by supernatural forces, occult means, and immense psychokinetic energy.
History
Ghostbusters
The sky was shown to change from a normal sunny day to night-like conditions as the summoning of the Sumerian god,
Gozer the Destructor
, was what was effecting the sky itself as it happened over at the Shandor Building (designed by
Ivo Shandor
and ritualized by the
Gozer Worshippers
as a superconductive antenna for harnessing spiritual turbulence) on
55 Central Park West
in New York City. This kind of event of paranormal significance however was referred to as the "
Coming of Gozer
" by his 2
Terror Dogs
Zuul
and
Vinz Clortho
.
Ghostbusters II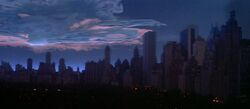 Known as a "
Slime Eclipse
", it was a supernatural event caused by the growing powers of the 17th century tyrant
Vigo
and the immense energy of the
Mood Slime
through the increasing negative emotions fed off the citizens of New York. After Mayor Lenny fired his assistant
Jack Hardemeyer
. The Mayor's attention was directed to outside his office when a shapeless mass of spiritual ectoplasmic energy surrounded the sky and blocked out the sun, causing total pitch black night. It was until after the Ghostbusters defeated Vigo that the Slime Eclipse ended.
Ghostbusters: The Video Game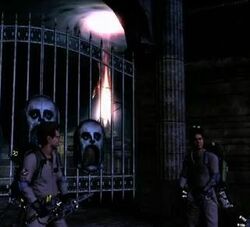 Once again, much like Gozer's summoning, the sky went into the same conditions as it has occurred over the secret
cemetery
in Central Park.
Gallery
Trivia
The effects of Psychokinetic Atmospheric Influence are usually observed during a cross-rip or arrival of a Metaspectre such as Gozer in the first Ghostbusters movie.
Ad blocker interference detected!
Wikia is a free-to-use site that makes money from advertising. We have a modified experience for viewers using ad blockers

Wikia is not accessible if you've made further modifications. Remove the custom ad blocker rule(s) and the page will load as expected.