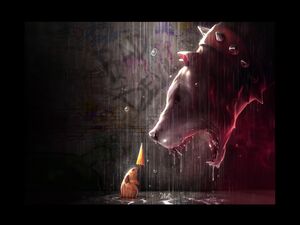 | | | |
| --- | --- | --- |
| " | The street rat?! Still ALIVE?! NO!!! | " |
| | ~ Jafar enraged to see Aladdin still alive, after his plan to have him executed fails. | |
During the story, some villains know the true meaning of family, love and friendship (that depends if they did redeemed themselves) while others know a way to make themselves even more evil or succeed in their own schemes instead.
They come to realize on:
Realizing how selfish they have been.
Realizing that the main protagonist is still alive.
Realizing why the heroes protect them or care about them.
Realizing that the main antagonist lied to them and using them, leading them to quit being evil.
Discovering that their evil is exposed to the public and that they are out of options.
Discovering that they have fallen into a trap and/or their days are numbered.
Examples
Animated Films
Percival McLeach realizes that Marahute's eggs are Cody's weakness.
Coco LaBouche ends up getting fired after Angelica reveals her deception to Mr. Yamaguchi.
Jafar becomes enraged to Aladdin alive after his plan to have his executed fails.
Sir Miles Axelrod ends up revealing himself to be the mastermind behind the World Grand Prix sabotages by voice-deactivating Mater's bomb.
Bill realizes that Mystery Inc. pieced together him being the creator of the Phantom Virus.
When demanding an explanation for the delayed demolition, Scheck discovers that his villainy is exposed. When he tries to run over Arnold and Gerald, he also discovers that Grandma Gertie has stripped his car of its tires, to his shock and surprise.
Leonard discovers, to his horror, that he has fallen into Red's trap.
Ratigan ends up being exposed by Basil in front of the royal council.
Bellwether discovers that Nick Wilde swapped the Night Howler serum with blueberries and that Judy Hopps recorded her admitting to darting predators.
The Evil Queen realizes that the huntsman has tricked her.
Kent Mansley sees the Iron Giant in Rockwell, Maine and, believing that it is attacking the city, sees an opportunity to prove himself right to General Rogard.
Shortly after a crazy scuffle with Big Bob, Nick Vermicelli notices that the key to a safe in Scheck's office is missing. Realizing that the "angel" from his "dream" was actually Arnold sneaking to steal the key while he was asleep, informs Scheck and gives him the bad news.
Shan Yu realizes that Mulan is the soldier from the mountains.
Cartoons
Dr. Flug is notably outraged when he discovers that (A) Professor Utonium is Mojo Jojo's "father" and (B) Mojo was the reason the Professor knocked Chemical X into the concoction that created the Powerpuff Girls.

He is also outraged when he discovers that his Universal Remote has been stolen and ends up in the possession of Rob.

King Nixel ends up revealing the I-Cubit campaign to be a scam to all of Mixopolis due to Camsta filming him insulting the Mixels and broadcasting the footage to Mixopolis Stadium.
Blue Diamond is shocked with the revelation that Pink Diamond was supposedly murdered by another Diamond.
Aku discovers that his days are numbered when Ashi helps Samurai Jack to return to the past.
Live-Action Films
Ramsley is forced to confess his betrayal to Master Gracey when Jim Evers reveals the letter Elizabeth wrote.
Megatron learns from Carly Spencer that Sentinel Prime had blackmailed him on their secret alliance, taking over his Decepticon army in the process.
Freddy Kruger tricks Jason by killing the children from Springwood, which led them to face each other at the end.
Nolan Sorrento realizing that the High Five hacked his OASIS feed and tricked him into revealing Samantha Cook's location.
Other
Makuta Krika realizes about Teridax's true plan behind the mission in Karda Nui, which involved all the other Makuta being eliminated.
After Overload reveals that he intends to use the Timemaze to kill Megatron throughout all of time and space, Tarantulas realizes that such an action would wreak catastrophe upon the space-time continuum. Thus, this inspires him to help Springer, Impactor, and Verity Carlo stop the rouge Decepticon.
Gleeman Vox discovers, to his surprise, that Ace Hardlight merchandise sales are low and that people are now buying Ratchet merchandise.
Quotes
| | | |
| --- | --- | --- |
| " | (Judy Hopps, pretending to be dead: Bleaahh. Blood, blood, blood! ...and death.) (Nick Wilde: All right, you know you're milking it. Besides, I think we got it. I think we got it. [to Bellwether] We got it up there, thank you, yakkity-yak. You laid it all out beautifully.) [Does not believe her ears and shakes her dart gun.] What? (Nick, pulling out the night howler serum from his shirt pocket: Yeah, oh, are you looking for the serum? It's right here.) (Judy: What have you got in the weapon there?) [Checks her ammo, but instead of the night howler serum, she discovers that the gun is filled with blueberries!] (Judy: Those are blueberries. From my family's farm!) (Nick, tasting a berry: They are delicious. You should try some.) [angrily] I framed Lionheart. I can frame you, too! It's MY word against yours! (Judy: Ooh, actually... [Takes out her pen recorder and replays what Bellwether said: "And I'll dart every predator in Zootopia to keep it that way!"] It's YOUR word against yours.) Huh? (Judy: It's called a hustle, sweetheart. BOOM.) | " |
| | ~ Bellwether discovers that Nick Wilde swapped the Night Howler serum with blueberries and that Judy Hopps recorded her admitting to darting predators. | |
| | | |
| --- | --- | --- |
| " | Look here, you cheaters! We got rules around here! (cuts a player's medal off) There's no lucky medals... (runs to the rules list) ...THERE'S NO FOUR LEAF CLOVERS, NO HORSESHOES, ​NO RABBIT'S FEET!​ (examines the rules one more time) I've been hornswoggled. (he growls as his face and eyes turn red, steam shoots from both his ears, and lightning comes out of his mouth. Meanwhile, Bugs is relaxing in a hot tub in a hotel room somewhere else in the casino.) (Bugs: (singing) I know I go from rags to riches, la-de-da-de-) (Sam bursts into the room, guns in hand.) ALL RIGHT, CHEATER, PREPARE TO DIE! (starts shooting at Bugs.) | " |
| | ~ Yosemite Sam realizing that Bugs Bunny tricked him out of his money. | |
| | | |
| --- | --- | --- |
| " | Starscream! You got some nerve showing your wing struts back here! [Transforms and flies after "Starscream". She reaches and fires upon "him", knocking Optimus Prime out of the sky] Wait. You're not Starscream. You're ... a flying Autobot? | " |
| | ~ Slipstream/Female Starscream attacking a jetpack-clad Optimus Prime, mistaking him for Starscream. | |
| | | |
| --- | --- | --- |
| " | (Blue Zircon: Rose Quartz is flawed, I grant you. A shallow strata-gem who turned against her own kind out of a misguided attachment to a planet and creatures like these. [warps Lars in]) (Lars, muffled: What?! Huh?!) (Blue Zircon: It's indisputable that as the Diamond overseeing Earth, Pink was Rose Quartz's enemy. Rose had everything to gain by shattering her. But even though she may have wanted to shatter Pink Diamond, could she? Blue Diamond, for the purpose of this argument, may I present your palanquin?) (Yellow Diamond: Is this necessary?) Isn't it? [waves her hand and the palanquin appears] Please, proceed. (Blue Zircon: Now, as the records show [walks to the steps of the palanquin] Pink Diamond was shattered just outside a palanquin much like this. Witnesses say Pink had just stepped out and had only taken a few steps forward when Rose attacked her from the front!) Oh! [turns away] (Blue Zircon: But the question no one seems to be asking is, "how?") I've been asking that question. (Blue Zircon: A-a-a-and right you are to ask, My Diamond! B-because at that time that Pink was shattered, Rose Quartz had been a recognized threat for several hundred years. There were no Rose Quartz soldiers in her entourage and none in her guard. So how did a Rose Quartz, with no business being anywhere near Pink Diamond, get so close in the first place? Where were Pink Diamond's attendants? Her Agates, her Sapphires? And where was her Pearl? (Yellow and Blue Pearl pause at the shock) (Yellow Diamond, slamming her fists down: They were with her, of course! They saw the whole thing!) (Blue Zircon: But none of them saw Rose Quartz approach? Wouldn't her Sapphires have seen Rose Quartz coming? Wouldn't her Agates have tried to fight her off?) (Steven: That is strange!) [is shocked and looks at an angered Yellow Diamond.] (Yellow Diamond: She must have slipped past them!) (Blue Zircon: Even if she did, wouldn't her Pearl have cried out an alarm, "Watch out, My Diamond!" No, whoever did this was already close to Pink Diamond. Someone her guards would allow to get near her, someone she would listen to when asked to stop her palanquin and step outside, and someone with the authority to cover it up afterwards! Someone with supreme authority... (pauses) Someone... [points to both present Diamonds] like one of you!) [gasps loudly] | " |
| | ~ Blue Diamond is shocked with the revelation that Pink Diamond was supposedly murdered by another Diamond. | |
| | | |
| --- | --- | --- |
| " | Wow, how smart. He got a remote control capable of altering time and space very similar to mine. But it's impossible that it's the same one, since mine is right there. [points to a display case containing a missing Universal Remote.] That's my remote?! | " |
| | ~ Dr. Flug discovers that the Universal Remote used by Rob was originally stolen from him before it was available for sale at the Awesome Store. | |
| | | |
| --- | --- | --- |
| " | [Celebrates by manically laughing.] The city is mine! [Grabs the closest Nixel to him by the arms and swings him around.] It's mine, mine, mine! [Lets go of the Nixel and lets him fly off.] Weak-minded Mixels, how easy it was to convince them to give up their Cubits! Those fools! [laughs some more] (Unbeknownst to King Nixel, the Newzers are overseeing this and Camsta extends his camera towards King Nixel as his visage shows through the lens. In Mixopolis Stadium, King Nixel is being shown on the monitors as the Nixel Airship flies above the stadium.) (Major Nixel: Would you look at that! I can see you on the Jumbotron!) [The Nixel airship flies off.] Huh? What's that, Major? (Major Nixel, nervously alongside the pilot Nixel: Uh, nothing, Your Egregiousness! As you were saying?) (Throughout the stadium, Mixels watch King Nixel on the Jumbotron.) [laughs some more] Oh, yes, what dolts! What dimwits! (The Mixels in the crowd become shocked.) (Combustor: Hey! That guy's a jerk!) What dunderheads! [continues laughing in his lair until five Nixels come up to him and stack up, with the top one whispering to him.] Huh? What? Really? Um… oh, well. | " |
| | ~ King Nixel ends up revealing the I-Cubit campaign to be a scam to all of Mixopolis due to Camsta filming him insulting the Mixels and broadcasting the footage to Mixopolis Stadium. | |
| | | |
| --- | --- | --- |
| " | (Nick Vermicelli is in his bathroom, washing his face shortly after a crazy scuffle with Big Bob, when he notices that the key to a safe in Scheck's office is missing.)[gasp] The key. What happened? Oh no. That dream I had, that angel. That wasn't no angel. It was that football-headed kid! It was really happening! He must have stolen the stinkin' key! (Nick calls Scheck on his phone.) Yeah. Mr. Scheck, it's me, Nick. Listen, I've got some bad news. I think I lost the key. Yeah, the key! I think that football-headed kid took it. I don't know, I was asleep! I think he snuck in and stole it. Yeah, I know! I'm stupid, stupid! | " |
| | ~ Nick Vermicelli notices that the key to a safe in Scheck's office is missing. Realizing that the "angel" from his "dream" was actually Arnold sneaking to steal the key while he was asleep, informs Scheck and gives him the bad news. | |
| | | |
| --- | --- | --- |
| " | How did the tow truck figure it out? | " |
| | ~ Sir Miles Axelrod is left baffled when Mater exposes him as the mastermind behind the World Grand Prix sabotages. | |
| | | |
| --- | --- | --- |
| " | (Carly: Your Decepticons are finally conquering this planet, and yet their leader won't be you.) IT WILL BE ME! It will always be me! (Carly: In any minute now, you'll be nothing but Sentinel's bitch.) | " |
| | ~ Carly Spencer reveals to Megatron that Sentinel Prime had blackmailed him on their secret alliance, taking over his Decepticon army in the process. | |
| | | |
| --- | --- | --- |
| " | The heart of a pig! Then I've been tricked. | " |
| | ~ The Evil Queen discovers that the huntsman had tricked her. | |
| | | |
| --- | --- | --- |
| " | (Kent is leaving Rockwell, upset and sees Hogarth riding with Dean on his motorcycle and looks out the window to see where the two are going. To his surprise, he looks out the window again and sees the Giant in Rockwell.) Huh! What?! (Kent accidentally crashes his car and Kent gets out his car as he begins to lie to the army, saying that the Giant is attacking Rockwell.) Stop! Look! Look behind you! The giant, IT'S ATTACKING!!! It's stomping the town. I was right! Look damm you. (General Rogard sees the giant in the city, hearing what Kent has said.) (General Rogard: Sweet mother of god!) | " |
| | ~ Kent Mansley sees the Giant in Rockwell, Maine, giving him a chance to prove himself right to General Rogard. | |
| | | |
| --- | --- | --- |
| " | (Sorrento looks in a small mirror on his chair, which shows Aech, Parzival and Sho behind the translucent doors, and turns to "Toshiro".) This isn't real. You're tapping my feed. (Toshiro: Uh-oh. Guys?) (Sorrento attempts to put his hand on his head, but is stopped by an unseen force, revealed to actually be his VR headset. He takes it off and finds himself in his office, just like he just saw, but without Toshiro. He sees a sticky note with his password, scrunches it, and gets onto his phone as he walks out of his office.) F'Nale, they've hacked my rig. They're after the girl. Meet me at Loyalty. | " |
| | ~ Nolan Sorrento realizing that the High Five hacked his OASIS feed and tricked him into revealing Samantha Cook's location. | |
| | | |
| --- | --- | --- |
| " | (Worker Robot: Uh, sir? We have the latest sales figures.) Eh, what's the bottom line? (Worker Robot: Nobody is buying the new Ace Hardlight merchandise. In fact, sales are down across the board except for... fuzzy Lombax ears.) We sell those? (Worker Robot: Uh, yes, sir. They're an accessory for the tiny tots' soft weapons kit.) Well, obviously you've made some sort of... idiotic mistake! Report to B-Level for disintegration. (Worker Robot: Yes, sir.) Wait! (Worker Robot: Sir?) On your way there, tell the lab to set up a focus test... and find out why this stuff isn't selling. (Worker Robot: I'll get right on that, sir.) | " |
| | ~ Gleeman Vox discovers, to his surprise, that Ace Hardlight merchandise sales are low and that people are now buying Ratchet merchandise. | |
| | | |
| --- | --- | --- |
| " | (Aku sees that Jack and Ashi have escaped to the past using a time portal.) Oh, no. | " |
| | ~ Aku realizing his days are numbered after Samurai Jack and Ashi escape to the past. | |
Gallery
Images
NOTE: The limit is for 20 pictures only
Videos
External Links