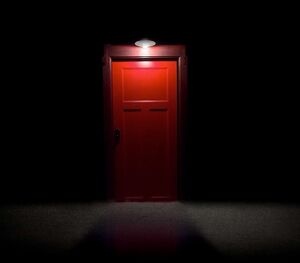 The Red Door is the main pathway to the Further and it is the entrance to various portals and lairs of the main antagonists of the Insidious movie franchise. The door, hence the name, appears as a blood-red door with a black wooden frame and an ornate gold handle.
In Insidious, the door leads to the Lipstick-Face Demon's lair, while in Insidious: Chapter 2, it is the entrance to Parker Crane's lair. In Insidious: Chapter 3, the door is represented by an elevator door, which leads to an inferior level of an apartment building.
Gallery
Ad blocker interference detected!
Wikia is a free-to-use site that makes money from advertising. We have a modified experience for viewers using ad blockers

Wikia is not accessible if you've made further modifications. Remove the custom ad blocker rule(s) and the page will load as expected.