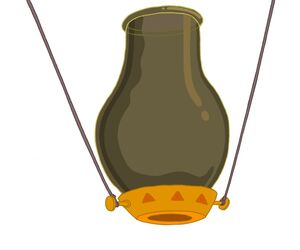 The Lantern is a magic lantern and an object in the episode "Incendium" of Adventure Time.
It was used as a containment device to protect the Flame Princess from burning through the Earth. According to Princess Bubblegum, she had the Flame King lock the Flame Princess in the lantern in order to prevent her from melting through planet and burning it if she were to experience romance due to her elemental matrix instability.
In "Earth & Water", the Flame Princess discovers that she is stronger than the Flame King and overthrows him by trapping him in the lantern he once trapped her inside of.
Appearance
It is a giant lantern capable of holding Fire Elementals. The glass is a dark yellow with the base of the lantern being yellow with orange triangles. The base of the lantern has two knobs that are connected to ropes that suspend the lantern.
Gallery
Ad blocker interference detected!
Wikia is a free-to-use site that makes money from advertising. We have a modified experience for viewers using ad blockers

Wikia is not accessible if you've made further modifications. Remove the custom ad blocker rule(s) and the page will load as expected.