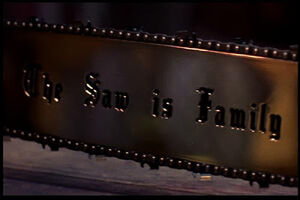 The Saw is Family is a chainsaw made by Tinker "Tech" Sawyer as a gift for his brother Leatherface. This chainsaw only appears in Texas Chainsaw Massacre 3.
When Tinker discovers that Leatherface failed to kill Michelle, he becomes hesitant towards allowing Leatherface to have it, however, Leatherface does eventually keep the chainsaw for himself, using it to near fatally wound Benny.
The chainsaw's last appearance is in the final shot of the film, when Leatherface reappears after having been proposed dead at the hands of Michelle. It is never seen again in the franchise.
Trivia
Is unknown why The Saw is Family only appears in Texas Chainsaw Massacre 3.
The Saw is Family is made of gold.
Ad blocker interference detected!
Wikia is a free-to-use site that makes money from advertising. We have a modified experience for viewers using ad blockers

Wikia is not accessible if you've made further modifications. Remove the custom ad blocker rule(s) and the page will load as expected.