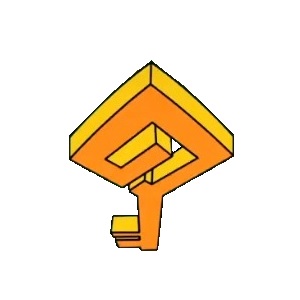 The Sorcerer's Key, also known as the "Sorcerer Key", is a magical gold key that is used to trap The Sorcerer in his underground prison and also to set him free. It made its debut appearance in the titular episode "Randy Cunningham and the Sorcerer's Key" of the Randy Cunningham 9th Grade Ninja cartoon series.
History
Before Randy and Howard ruined the timeline, the key was used to close the Sorcerer's prison after the Sorcerer got trapped by the Eye of Eternites. The only way to release him was the Sorcerer's Key, a forgotton magic relic used by the First Ninja to seal the evil conjurer's prison. Afterwards, the Ninja hid the key away, knowing it was far too dangerous to possess. Once every century, for one minute, the key's location will be revealed when the sunlight reflects off the Eye of Eternity. Once the key has been found, the mystic ninja book known as the NinjaNomicon (Nomicon as it is sometimes called) stores it until the key itself moves to a different location.
Everytime the key reveals its location, the Sorcerer tends to fail from getting the key as it evades his grasp.
The Sorcerer then was finally released from the prison via this same key to fight against Evil Julian.
Gallery
Trivia
So far, the Nomicon (NinjaNomicon) interpretation of opening the prison is different from reality.
The episode's title may be a reference to the title of the first Harry Potter book, "Harry Potter and the Philosopher's Stone", and it's movie title, "Harry Potter and the Sorcerer's Stone".
Ad blocker interference detected!
Wikia is a free-to-use site that makes money from advertising. We have a modified experience for viewers using ad blockers

Wikia is not accessible if you've made further modifications. Remove the custom ad blocker rule(s) and the page will load as expected.