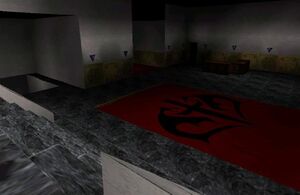 The Towers are a pair of modern-day skyscrapers located somewhere within one of the industrial cities of China in Earthrealm, and they once served as the new lair for the Black Dragon crime syndicate. They are featured as the third level of Mortal Kombat: Special Forces.
Due to their dealings with some corrupt Chinese government officials, the Black Dragon clan have owned these 2 corporate buildings as their new safe haven and a base of operations for them from the authorities hunting down these notorious criminals.
Major Jax Briggs of the U.S. Special Forces infiltrates the Towers and soon pits himself gainst not only Black Dragon thugs who stood in his way, he also confronted and beaten the Black Dragon member Jarek, while the clan's leader Kano escaped to the excavated lost city of Sinkiang within the Xinjiang province of China.
Trivia
The Towers' exterior appearance might have been based on some of the twin towers in China such as the Grand Gateway Shanghai in the Xuhul District of Shanghai but that has never been proven.
Ad blocker interference detected!
Wikia is a free-to-use site that makes money from advertising. We have a modified experience for viewers using ad blockers

Wikia is not accessible if you've made further modifications. Remove the custom ad blocker rule(s) and the page will load as expected.