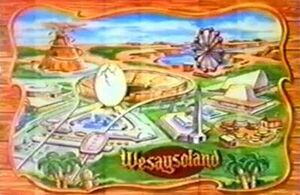 The Wesaysoland, also known as "WESAYSOLAND" and "WESAYSO Land", is a sprawling corporate-run family amusement park built by the WESAYSO Corporation that was a classic example of a Circus of Fear and the central antagonists of one episode of Dinosaurs, in which the Sinclair family were forced into going to the theme-park due to Baby Sinclair's constant complaining.
At first, WESAYSO Land seemed to be a rather unpleasant but by no means evil place, with rides that either did not function or that were simply ways to con people out of money - however as the episode progressed WESAYSO Land soon became a real threat as it was revealed that once one entered the park they were literally imprisoned there in a style not unlike a police-state.
Gallery
Trivia
The Wesaysoland park is a thinly veiled parody of Disneyland and Walt Disney World.