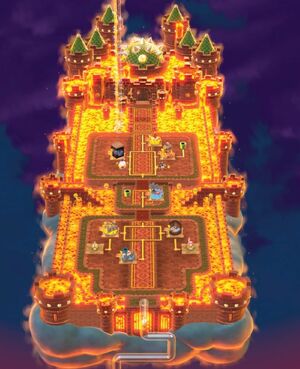 World Castle is a gigantic lava-covered realm placed in the evil king Bowser's Castle and it is the 7th Story Mode world of Super Mario 3D World.
It is this Koopa Kingdom-styled region that sits above every preceding world, but below Bowser's grand utopia called World Bowser, with ? Blocks and Coins are scattered throughout the map. It contains seven standard courses, three Enemy Blockades, a Toad House, a Captain Toad course, a Castle, and a Sprixie House.
After completing the castle's courses, Bowser will kidnap the Sprixie Princesses and will create a sparkling Clear Pipe to World Bowser.
Gallery
Trivia
It is called "Castle World" on Miiverse.

It is the name of the fictional medieval-themed amusement park called "Castle World", rival of another Middles Ages-styled theme park Medieval World in the 2001 comedy movie Black Knight.
It was the name of the level dubbed "Castle World" that was planned to be the final location in the videogame Banjo-Tooie, but was ultimately cut during development due to time constraints.
Ad blocker interference detected!
Wikia is a free-to-use site that makes money from advertising. We have a modified experience for viewers using ad blockers

Wikia is not accessible if you've made further modifications. Remove the custom ad blocker rule(s) and the page will load as expected.