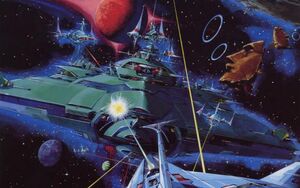 Xaerous is the fortress of the Bacterians in the Gradius series.
Background
In the First Bacterion War, Bacterion's Brain controlled Xaerous and used it to attack Planet Gradius, starting the First Bacterion War.
A ship named Vic Viper attacked Xaerous and destroyed Bacterion, ending the First Bacterion War.
After Bacterion's defeat, Gofer used a rebuilt Xaerous to attack Gradius again but Vic Viper defeated Gofer which caused Xaerous to explode, since Gofer controlled with it with his mind. After a long period of time, a piece of Gofer lands on a distant planet and mutates it to a Xaerous clone. The mutated planet was reverted back to its original form when Vic Viper destroyed the reborn Gofer.
Ad blocker interference detected!
Wikia is a free-to-use site that makes money from advertising. We have a modified experience for viewers using ad blockers

Wikia is not accessible if you've made further modifications. Remove the custom ad blocker rule(s) and the page will load as expected.