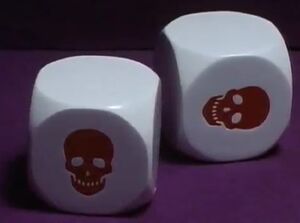 The Zombie Dice were the primary antagonist of the episode "The Tale of the Zombie Dice" of the 1990s TV show Are You Afraid of the Dark?.
One side of the dice had a skull; the rest of the sides were blank. The player had to roll the dice three times. If even one skull came up in the three rolls, their thumbprint had to be given up. They would then be shrunk down and sold as pets.
Ad blocker interference detected!
Wikia is a free-to-use site that makes money from advertising. We have a modified experience for viewers using ad blockers

Wikia is not accessible if you've made further modifications. Remove the custom ad blocker rule(s) and the page will load as expected.